I miss the crackle.
Old fogey's about to talk. Clear the room.
I finished my penultimate
Phonogram
and it is brilliant. I finished my
Authority
, my
New Universal
. Good, good. I finished three weeks' worth of stash. Uh huh. There is new Ellis, Morrison, Gaiman, Ennis , even Moore out there. But something's off. This isn't prime Ellis, Morrison, Gaiman, Ennis or Moore. There's no crackle. Been missing for months. Nothing but a kind of cursory going through motions of an old habit that dies hard.
I miss it. The crackle.




I used to get it on a weekly basis - - -back when we all worked at the salt mines, back when comics felt like superconductive narcotics. Today's comics, to force a pop metaphor here, smacks of Don't Believe The Truth-era Oasis. Back then,it was Definitely Maybe/Morning Glory ,week after week after week , courtesy of Comic Oddysey in Robinson's Place - - - Planetary and TransMet, Pop Gun War, Grant's X Men and Flash runs and later Vimanarama and of course The Invisibles and The Filth, all three Vertigo Pop!s , Black and White and No.5, Love and Rockets, Moore's entire ABC line but specially Top 10 and LoEG and of course From Hell, Allred's Madman and The Atomics, Astronauts In Trouble, Dylan Robinson's Reporter , Starman, Preacher, Ashley's Automatic Kafka and Popbot, the random Concrete and Hellboy, Steampunk. There was crap back then, of course - - -DC 1 Million , Strange Kiss, 1602, Tomorrow Stories, parts of Promethea - - - but mostly the stash crackled weekly .


None of that is happening now. There isn't a single superhero comic I've picked up in the last twelve months or so (except All Star Superman , NextWAVE and The Ultimates) that I haven't felt a pang of regret over forking out my hard-earneds. Not that they were any bad. Some of them were OK. But that's the thing. They were merely OK. And superhero comics that are merely OK sharpen into relief the inescapable fact that superhero comics are essentially . . . um, silly. Superhero comics have to be very good to transcend that inherent silliness. They have to have a buzz. They have to crackle. There has been none of that for me of late. Maybe I'm just jaded. Maybe I've been collecting for soooo long, nothing surprises me anymore. Maybe comics were really better four years ago when my collecting was at its peak. We are,after all, living in a mainstream superhero climate where the best/bestselling writer on the block is Mark Millar
- - -well he isn't , he just likes reminding us all that he is. Sounds Palanc
. . .este . . . familiar,eh?




That's old fogey talk, of course. So maybe the geek in me is dying a slow death.

I don't think so, though. I am still looking for that crackle.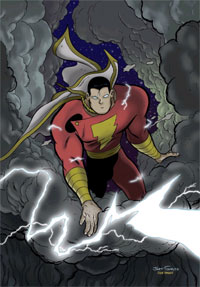 Darwyn Cooke's The Spirit has it - - its my favorite comic out there. I am checking out Moon Knight for Mico Suayan's art, and so should you - - -Charlie Huston's writing definitely has crackle of a sort but Mico's art just bristles. Jeff Smith's Shazam and the Monster Society of Evil is very good so far. Otherwise , I don't think I'll find that crackle in the pages of DC or Marvel . I'm thinking The Nightly News might have it. I'm waiting for Paul Pope to go creator-owned again. James Robinson, too. Grant should do something soon now that that 52 flapdoodle's wrapping up. Ellis has his novel. Brian Wood, Matt Fraction, Marc-Antoine Matthieu,The Goon. I haven't read Moore's Lost Girls or Clowes' Eightball:Death Ray yet - - -but I will. Beck and Planetes and Embalmer and Fruits Basket look promising. Allred's returning to comics soon. The Hernandez Brothers haven't left. And Farel Dalrymple is working on something. Travis Charest,too. Godland.

So no, I don't think the geek in me's gone soft or terminal. I'm not giving up on comics,after all.

Just superheroes.